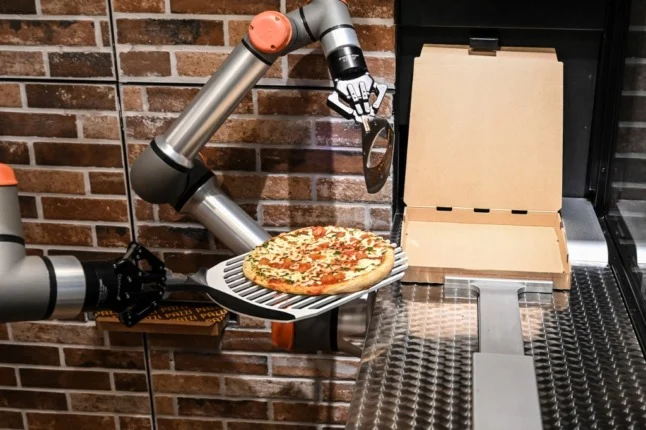 A New Pizzeria Operated Entirely By Robots Make its Debut in Paris
July 14, 2021
A French startup has opened its first robotic pizza restaurant in Beaubourg in Paris, France.
The pizza-making robot dubbed "Pazzi" can do everything from taking orders, flattening the dough, adding the sauce and toppings, setting the right temperature, placing pizzas in the oven, to slicing and boxing them up when ready to serve. The entire process from start to finish is 100% automated.
Pazzi's Development
Sébastien Roverso, the co-founder and inventor of the Pazzi robot, and Thierry Graffagino, a chef and three-time World Pizza Contest champion, worked together for eight years to develop the technology, adjusting and testing their creation again and again. "Finally, we managed to create this technology of the first pizza-making robots in the world," explains Sébastien Roverso.
Why We Need Pizza-Making Robots
Speed is a crucial element to any restaurant. Customers wish to be seated and served as fast as possible, which is why the Pazzi robot, which can process and deliver your order in just five minutes, could be the first step towards faster, more efficient customer service.
More importantly, the Pazzi robot's productivity cannot be matched, producing 80 pizzas per hour without the need for breaks or a competitive yearly salary. The price for one pizza costs between 7 to 13.6 euros.
Quality and safety are also important factors worth noting as only fresh and organic products are used. Moreover, if the machines are maintained to a high standard, there should be a much lower risk of food contamination.
No doubt there are many advantages to "employing" robots, both for the customer and employer. As innovation and creativity continue to thrive, hopefully, we will witness more autonomous solutions across the globe.