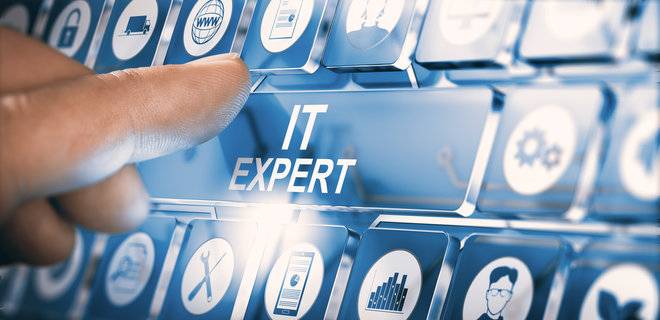 How many IT experts in Ukraine and what's their salary like?
February 18, 2020
We were inspired by several local studies and decided to write this short article that we hope you find interesting.Over the past four years, the number of IT professionals within the Ukrainian IT market has increased to 185 000. It should be also noted that the IT industry has become one of the main industry for exporting services in Ukraine, bringing in roughly 5 billion dollars per year. According to the 2019 CEE report, Ukrainian's software development sector grew by 19% in 2018 and continues to progress.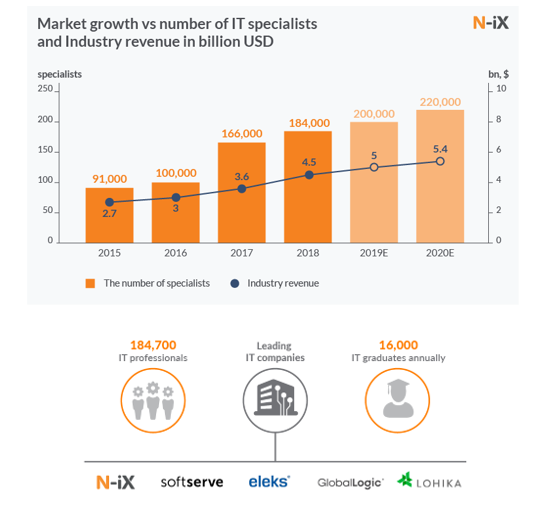 Furthermore, organizations such as World Bank, PwC and IT Ukraine states the following information regarding the Ukrainian IT market:
There are more than 1600 companies that provide IT services.
The number of IT specialists stated as 185 000 people.
More than 100 companies printed in Fortune's 500 list (ranking of the largest US companies by revenue) are clients of Ukrainian IT agencies.
ICT is the third-largest export service industry accounting for 20% of all Ukrainian service exports.
According to HackerRank, Ukraine takes 11th place among 50 countries with the best software developers in the world comes 6th place in the ranking of the best TopCoder programmers.
Ukrainian Dou portal conducts the annual survey of Ukrainian software developers. The most recent survey found that Java is the most popular programming language used in Ukraine, followed by JavaScript, C #, PHP and Python.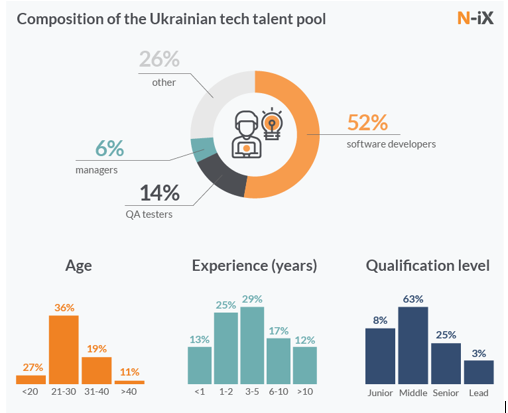 As the necessity for software development services is increasing both worldwide and in Ukraine, the number of jobs related to technology is also growing. In 2018, the number of job opportunities at Dou portal increased from 3,111 to 4,606 per month.
At the same time, the number of companies that offer employment also increased from 2419 to 3339 (38% increase). The most popular IT specialist fields are Front-end, QA and PHP.
These specialist fields account for 31% of all vacancies.
Surveys of Ukrainian IT professionals show that 67% of all live in Kyiv, Kharkiv, and Lviv. Stack Overflow states that there are about 68,500 software developers in Kyiv who account for 37% of the total Ukrainian pool of IT specialists.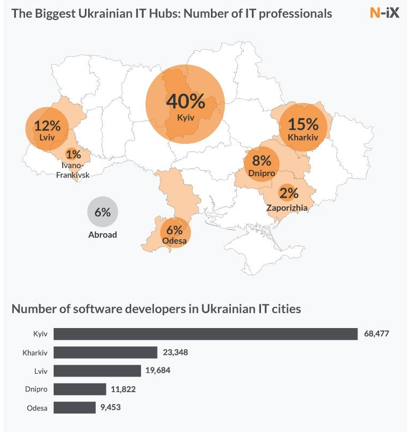 All major Ukrainian IT companies, including GlobalLogic, Ciklum, SoftServe, Epam,N-iX, and others have large development offices in Kyiv as well.
It is worth noting that Lviv is the second largest IT center in Ukraine. The city employs more than 20,000 IT specialists and about 317 IT companies, most of which provide software outsourcing services to customers in the United States and Western Europe.
All the infographics belong to N-iX company.